How do I post a blog?
After logging into the Luxury Lounge, hover over "MARKETING" and press "Blog Posts."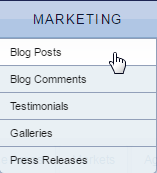 On the menu to the left, press "Write a Blog Post," and fill in the Content and Title fields. Note that if you are an administrator, you can post as any agent associated with your account, otherwise you can only post as yourself. You can keep blog posts as drafts by unchecking the public box below the Content box then pressing "Save." When you're ready to publish it, make sure the box is checked, then press "Save" and the blog will be posted.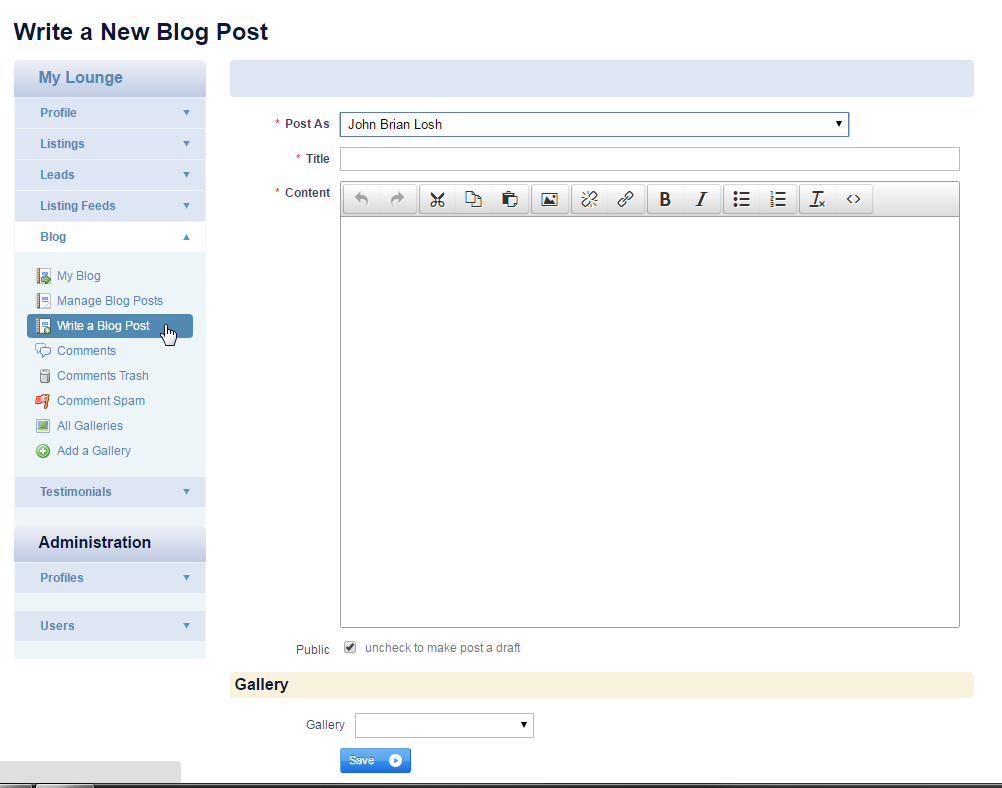 Your blog posts can be found at the bottom of your profile page on LRE, as well as on the home page at LuxuryRealEstate.com for a short time. Blog posts can also be included in the Week in Review – contact pr@luxuryrealestate.com to submit your blog for consideration.
How do I add an image to my blog entry?
While on the "Write a Blog Post" page, click the picture frame icon at the top of the Content box.

A window will open, where you can upload a photo from your computer or from the web. Click "Upload," position it and add a caption if appropriate, then click "Insert" and it should show up where your cursor is in the Content Box. After your blog post is published, it is recommended that you check on it to make sure photos were uploaded and positioned appropriately.
How do I add a link to my blog entry?
While on the "Write a Blog Post" page, type the text you wish to link to somewhere. Highlight the text and click the chain link icon at the top of the Content box.
Enter the URL in the "Link URL" field and if prompted, add http:// to the beginning of the URL. You can also set the "Target" dropdown for the new page to open in a new window or the current one. Include a "Title" of the link – this is the text that will show up when the cursor hovers over the link. Then click "Insert" and the link will be added.